ICE
This class is taught by: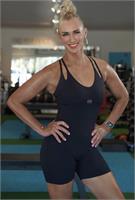 Nikki's background is a B.App.Sc in Physical Education. She has worked since 2000 as a sessional academic at Victoria University teaching in the Clinical Exercise Science stream, Nikki continues to teach there today. Nikki has been running Cinch Rosanna for the past five years and has built it from ground zero, to the point where there are two studios, five staff members and a new 100sq meter boutique.
Nikki writes and presents frequently and is incredibly excited to be part of a new team at Cinch Macleod.
Upcoming classes: