Nikki Ellis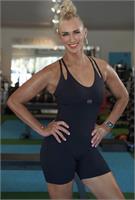 Nikki's background is a B.App.Sc in Physical Education. She has worked since 2000 as a sessional academic at Victoria University teaching in the Clinical Exercise Science stream, Nikki continues to teach there today. Nikki has been running Cinch Rosanna for the past five years and has built it from ground zero, to the point where there are two studios, five staff members and a new 100sq meter boutique.
Nikki writes and presents frequently and is incredibly excited to be part of a new team at Cinch Macleod.
Nikki Ellis instructs the following:



We all know the best cardio for increasing metabolic rate, burning fat and getting you fit is HIIT or High Intensity Interval Training, Kick A_s is 20 minutes of high intensity intervals. JUST 20 min! You can do this! 30 secs on, 10 secs off. it's going off. Are you bad a_s enough to do it??